5 minute Coffee Break with Chief Experience Officer
Greg Mace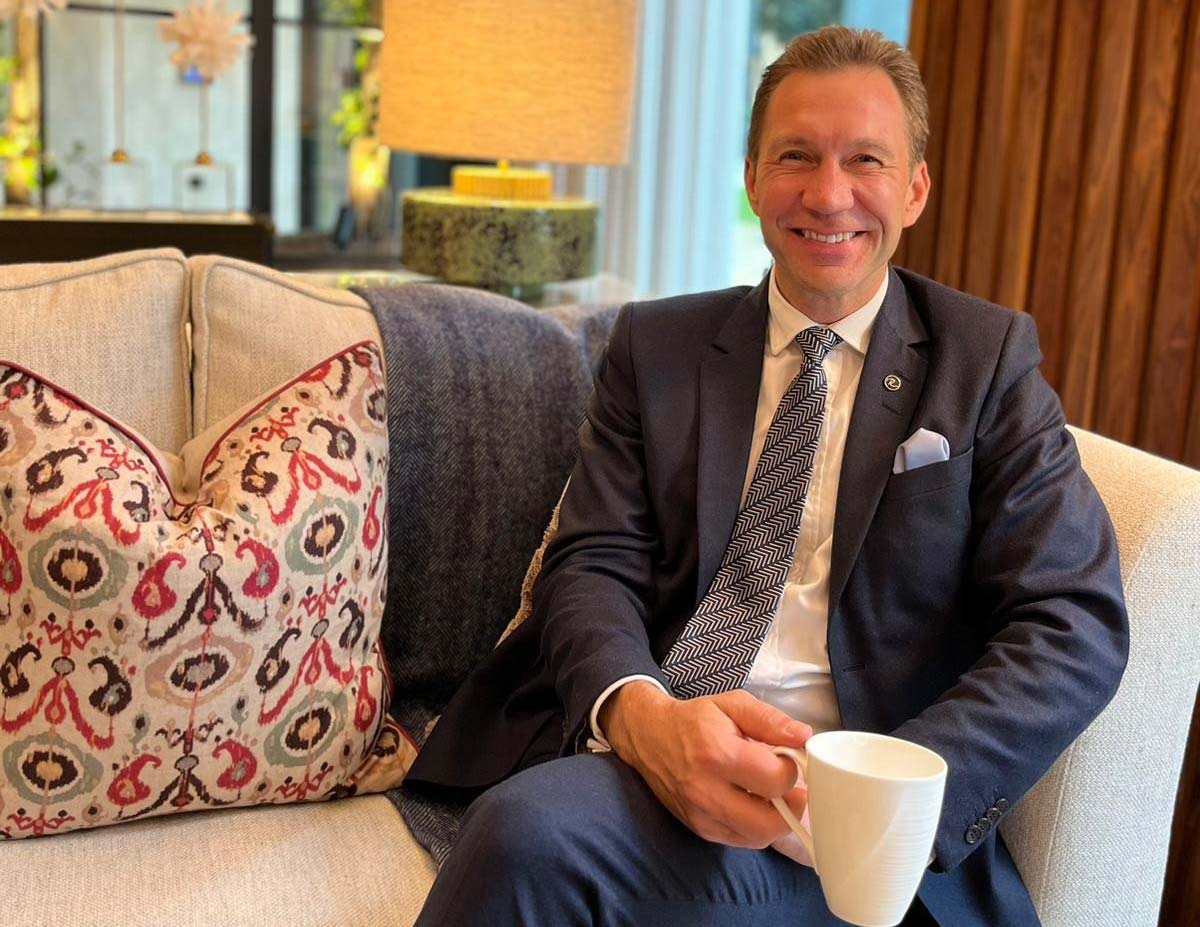 15 February
It is evident from the moment that you walk into Riverstone that it is the team that play a key role in the warm and helpful atmosphere at the residences. We discover, as we sit down for a coffee with Chief Experience Officer Greg Mace, that he leads by example, with an attentive and engaging demeanour.
Why is it so important to get the 'service ethos' right at Riverstone?
Riverstone has set out to reinvent later living by offering exceptional homes for the over 65s in the heart of London and central to this is creating as many ways as possible for residents to live their lives to the full.
A lot of time and care went into developing Riverstone's service philosophy, as we wanted it to completely match the particular needs of our residents. We want to not only achieve the highest levels of service and professionalism, but also bear in mind that for our residents, this is their home and the small personal touches, like remembering their favourite drink or magazine, can be just as important.
We aim to provide an intuitive service which means that we are both highly responsive to people's needs and yet warm and relaxed when necessary, to put people at ease, just as they would be amongst friends and family.
How is this being brought to life for residents at Riverstone Kensington and Riverstone Fulham?
One of the most important things that we have done is ensure that our team connects in the right way with our residents. They are professional yet caring and have a genuine interest in getting to know our residents.
This had led to many instances where they have been able to go above and beyond. For example, we have learned that some residents get anxious about night-time security. So, we now make a show of locking the doors in the evening to send out a message that they are safe with us.
We are taking care to balance the urge to fulfil every need of our residents with an awareness that many come to Riverstone to live as independently as possible. Again, getting to know people and adapting what we do appropriately is key. For example, one resident has chosen not to use our rubbish collection service, as her walk to our main drop off point forms part of her daily exercise and creates an opportunity for her to interact with others.
It sounds like community will play a huge role in creating the Riverstone experience, how does this happen in practice?
This is something that evolves naturally over time. It could start with simple questions such as "How would you like to be addressed?" or "What are your hobbies?" We can then understand people's preferences and start doing things that we know they might like, such as letting them know if there is something of interest happening in our cultural programme.
Incidentally, we apply the same approach with our Riverstone team in each residence. Our culture is to respect individuality and value skills. We have learned that Armen is a tech wizard, Gerry is fluent in British sign language and Bryanne, our gardener, has an encyclopaedic knowledge of plants.
Our residents will be with us for years and it is important that we all have fun together. Some of the best people in hospitality can be both relaxed and professional and this is the perfect blend for Riverstone.
Many people are attracted to Riverstone because of the opportunity to be part of a community, how are you creating this?
Health, wellbeing, hospitality and community are all closely aligned at Riverstone. Social interactions will naturally take place as residents spend time participating in our "Forever Curious" programme of exclusive events and experiences which range from talks from our partners such as Saatchi Gallery or Royal Albert Hall through to educational classes, a regular book club which is very popular, music, gardening, painting and crafts and many more.
Friendships are also blooming through spending time in our fabulous amenity spaces and restaurants. Another example is that every Wednesday, we reserve a residents' social table in Maria G's, our onsite neighbourhood restaurant and bar, with a promise that you will never dine alone!
The exciting thing is that the lifestyle benefits of Riverstone will only go from strength to strength as the Riverstone community grows. Residents automatically become part of the Riverstone Club which will enable them to experience and enjoy all of our residences across the capital, presenting even more opportunities to appreciate life and meet new people.

Find out more or book a viewing
Complete the form to receive further information or to book an
exclusive viewing of one of our Show Apartments.