Riverstone's CEO, Marin Earp joins the panel at Bisnow Later Living Conference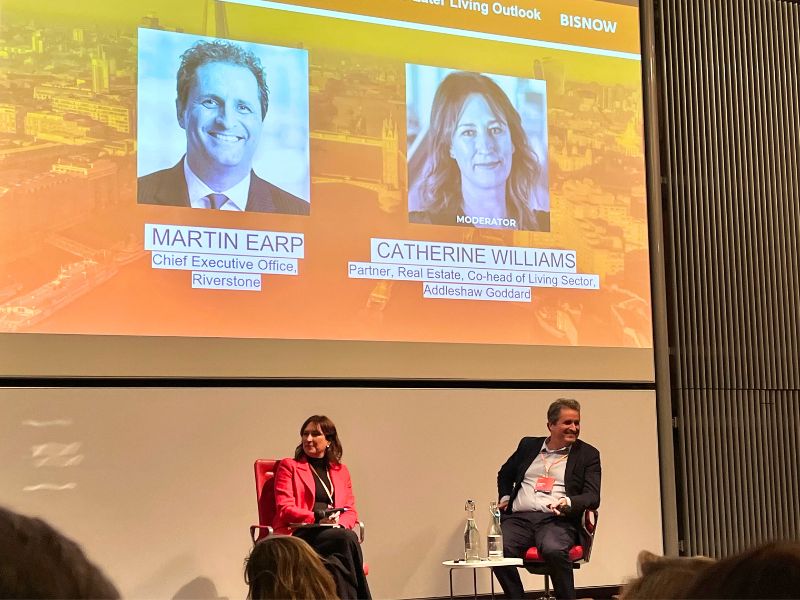 19 September
On Tuesday 19th September, Riverstone CEO Martin Earp was invited to join the annual Later Living Conference as a keynote speaker. This year's conference - which focused on meeting Residents' desires - explored the levels of investment into the later living sector and the priorities for institutional investors, as well as investigating how to develop a flexible and desirable operating model to attract and retain later living tenants.
Held in central London at One Birdcage Walk, a grand Edwardian building overlooking St James's Park, Martin spoke of his career and how he spent the past 15 years in Australia as Chief Executive of Campus Living Villages and InvoCare. Martin then delved into the fascinating connections between student accommodation/community and later living, the planning challenges associated with retirement living, and Riverstone's dedicated approach to wellbeing and community.
Martin was joined at the event by other industry leaders in the retirement living sector - from developers, investors, agents, owners and law firms, to architects, operators and engineers. The conference featured informative panels which discussed; 'How To Invest in Later Living: Funding A Better Retirement' and 'How to build a flexible and desirable customer proposition to future proof your operating model'.
Speaking to Catherine Williams, Partner at Addleshaw Goddard, Martin expressed how Riverstone do things differently when it comes to the health and wellbeing of their residents, and take a more holistic approach to care, which is all part of Riverstone's 'Wellbeing journey,' ethos, which includes:
Designed for you and the future - A focus on customer wellbeing when it comes to the design of Riverstone residences
Customer Care – care with a little 'c', which is led by The Riverstone Wellbeing Team. We are committed to providing you with the day-to-day support you need to ensure we add life to your years.
Community and connection – all centred around the Riverstone Club and active ageing which is fundamental in co-curating activities with residents, and helping to facilitate the things they want to do.
Fit & active - Movement and strength are essential to physical and mental wellbeing, and so at Riverstone we work with you so that you can enjoy your life in the way that you want to.
Health concierge - The unique Health Concierge service has been designed to support Riverstone residents in accessing the expertise they need, at the time they need it, in the way that works for them.
Healthcare support - The State-of-the-art Recovery Suite at Riverstone Kensington is open to all and specially designed to support you after an operation, illness or injury. Ideal if you are looking to get back to full strength. Medical Support, Hospital Liaison and Personal Care are also available should you need it through our specialist partners.
24/7 safety net - Health and wellbeing might not be at the forefront of your concerns at the moment, but if and when things change, you can be sure that Riverstone is there for you, whatever the time of day or night. There is always someone that you can call.
In discussing what makes the Riverstone community so unique, Martin emphasised the importance of connecting residents with the local area in order to become part of the local community, including how Riverstone's neighbourhood Restaurant and Bar, Maria G's, is open to the public - welcoming non-residents to also become part of the community. This connection with the local area, he said, allows Riverstone to also be a good neighbour. Moreover, the Riverstone residences appeal to family members, with its exceptional amenities on offer such as the Swimming Pool and the Cinema, which are particularly enjoyed by grandchildren.
And what about his predictions for the future? Well, for Martin, Australia won't be winning the World Cup!

Find out more or book a viewing
Complete the form to receive further information or to book an
exclusive viewing of one of our Show Apartments.