Five minutes with Green Goddess Diana Moran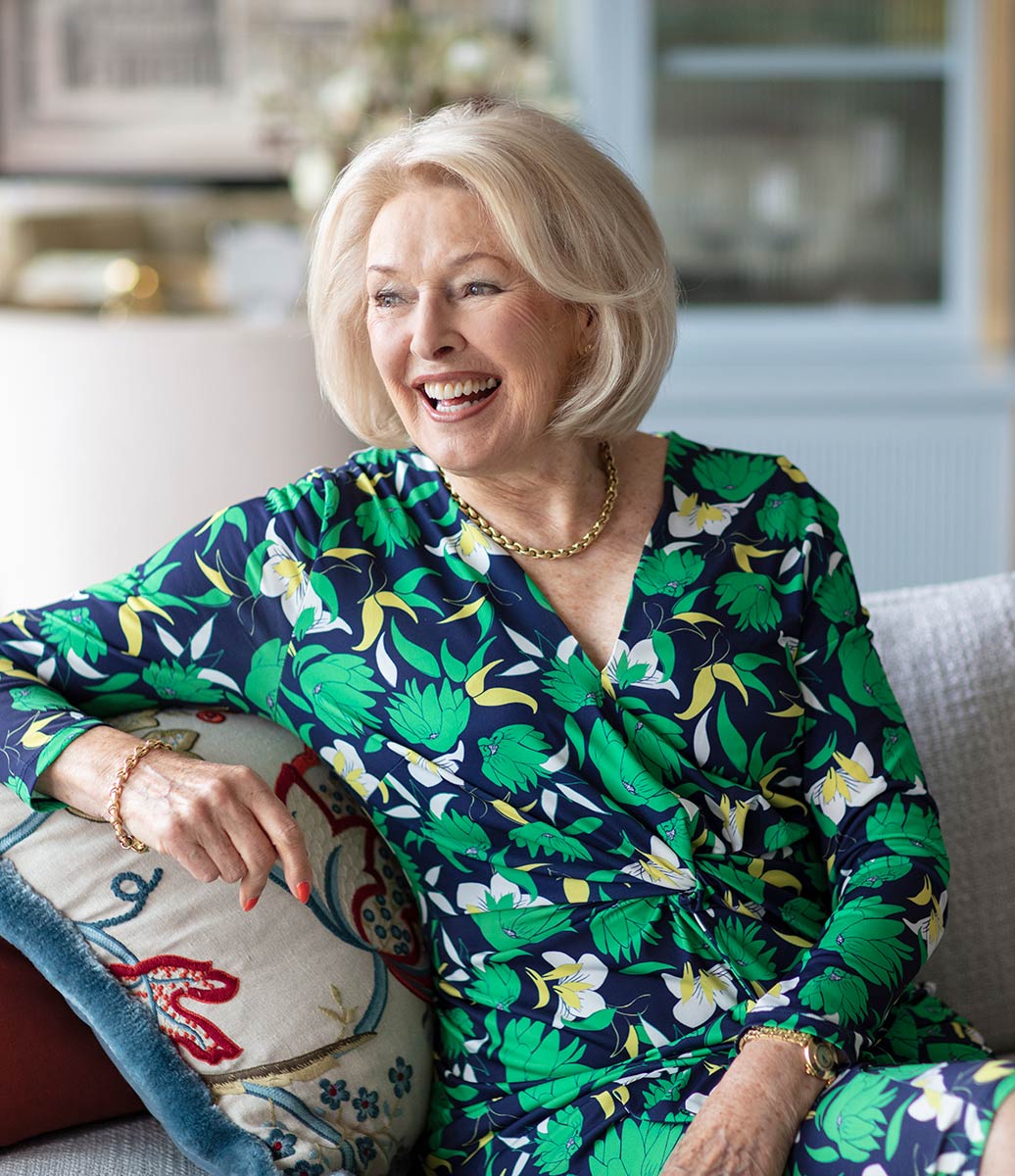 12 August 2021
Riverstone partner Diana Moran shares her tips for health and happiness and keeping busy into her 80s.
Can you tell us a bit about your views on healthy ageing?

It's important to keep physically and mentally fit at every age, but perhaps even more so in later years. Speaking from personal experience and my work with many over 65s, I can honestly say that staying as active as you can does promote longer term good health and can add years to your life.
It's been 40 years since you burst onto our screens as 'The Green Goddess' and you are as busy as ever! Have you been forced to slow down due to Covid?

Of course, I have been as affected as everyone else by this disruptive time, but my immediate thought was how can I help? I felt a real solidarity with others having to shelter in their homes and wanted to share my determination to keep busy and active with others. I am so pleased that BBC Breakfast were happy for me to reprise my keep fit slot, aimed at keeping the nation moving.
I've also launched a new website to share latest information, health tips and my own workouts.
Why did you decide a partnership with Riverstone was the right fit for you?

I am much like Riverstone's prospective residents. I've earned the right to live life my way and this aligns with Riverstone's ethos. The company understands that being over 65 means different things to each of us in our own different ways. I don't want to be told what I can have – I want to be asked what I want.
Personally, I want independence, but I also want to be around other people when I want to. I like to be able to call on services when I need them – be it a doctor, dentist or even a physio. But we're all different and as we continue our journey, we want options that suit us, and Riverstone will provide just that.
As well as physical exercise, do you have any other tips for health and happiness?

My close bonds with family and a variety of friends of all ages are a source of great joy to me. Naturally, I try to combine the two and exercise with others, wherever possible. That way, you can motivate one another and have a good chat at the same time!
There are so many ways that we can take care of ourselves through our lifestyle choices. I've written thirteen books on the topic, so it's difficult to distil down, to be honest! But in a nutshell, I would say close relationships, physical and mental exercise, good nutrition, and a positive outlook on life.
It's incredible that you are still so motivated to work in your 80s, what do you do to relax?

I always say – age is mind over matter! If you don't mind, it doesn't matter! I think it's important to spend time outside in the fresh air every day. I'm lucky to be able to go for a bike rides along the Thames – something that residents at Riverstone Fulham will also be able to enjoy! I've never lost my sense of adventure and I love travelling to new places and making new acquaintances.
I'm fortunate in that my works takes me all around the world, as far afield as the Caribbean islands of St Lucia and Grenada. But it is equally important to know how to relax, even I have an off switch! Good sleep is important, and I love to relax by painting, and reading at home.
How do you plan to bring your knowledge and inspiration to Riverstone?

I'm a real people's person and just love to meet new people and share my enthusiasm for what I do. Healthy ageing is a choice and what I do is provide some tools to help achieve this.
I feel a great affinity with Riverstone's commitment to well-being as the cornerstone for creating exceptional places to live for the over 65s and I can't wait to start meeting residents and working with those who take pride in their physical health and love to keep fit.

Find out more or book a viewing
Complete the form to receive further information or to book an
exclusive viewing of one of our Show Apartments.