Living with retirement by Diana Moran
24 September 2021
I am still working at the age of 82, but I have found that the Covid pandemic with its social restrictions has actually given me more leisure time. Time to do things that I couldn't do whilst I was working full time plus a full and busy social diary. But every cloud has its silver lining, and the upside of the situation is that with a change of pace it's given me the time and opportunity to pursue my hobby of painting.
As a young Grammar School pupil, I was encouraged to draw and paint by a very enthusiastic Art Mistress who thought I had some talent. She suggested I sit for a scholarship to the well renowned West of England College of Art in Bristol. I was successful. But my very strict father would have none of it and he insisted that I train for a "proper job". I left school and became a trainee Personnel and Welfare Officer. But my love of art never left me, although marriage at a young age plus a family and work left me little time to put paint, pencil or pen to paper! Until now…..
With travel restrictions lifted, I recently visited the West Country to catch up with members of my family. I was born and bred in Somerset so to see my elder brother Anthony aged 85 was a delight. He is still fit and active and over the years has had a lifelong fascination with boats of all shapes and sizes. It began with his building a fibreglass canoe in our garage at home in his teens and over the years has progressed to him owning and restoring canal boats.
On this occasion I visited Anthony on the Gloucester and Sharpness Canal. Much of the canal runs through beautiful countryside close to the tidal River Severn and past the Slimbridge Wildfowl Trust in the west of England. In the past the UK's canal system provided a nationwide transport network during the Industrial Revolution, but with the advent of the railways commercial canal traffic gradually diminished. By 1970 the long-distance transportation of goods such as coal, pottery, flour and sugar disappeared. On the British canal system anything wider than a narrowboat's 7 foot can be referred to as a barge. Canal boats and narrowboats are easy to drive and today they offer a truly unique family holiday.
I had enjoyed secretly painting this cruiser stern narrowboat, a leisure boat which belongs to my brother, and decided to give him a birthday gift of the picture I had worked on which showed his boat moored on the canal near Slimbridge. It is quite a large painting; the size is 16 x 20 inches, and I used my favourite medium - Acrylics on canvas. As you can see my brother was so surprised but delighted to receive my picture! Well worth the effort and so therapeutic to paint at this stressful time.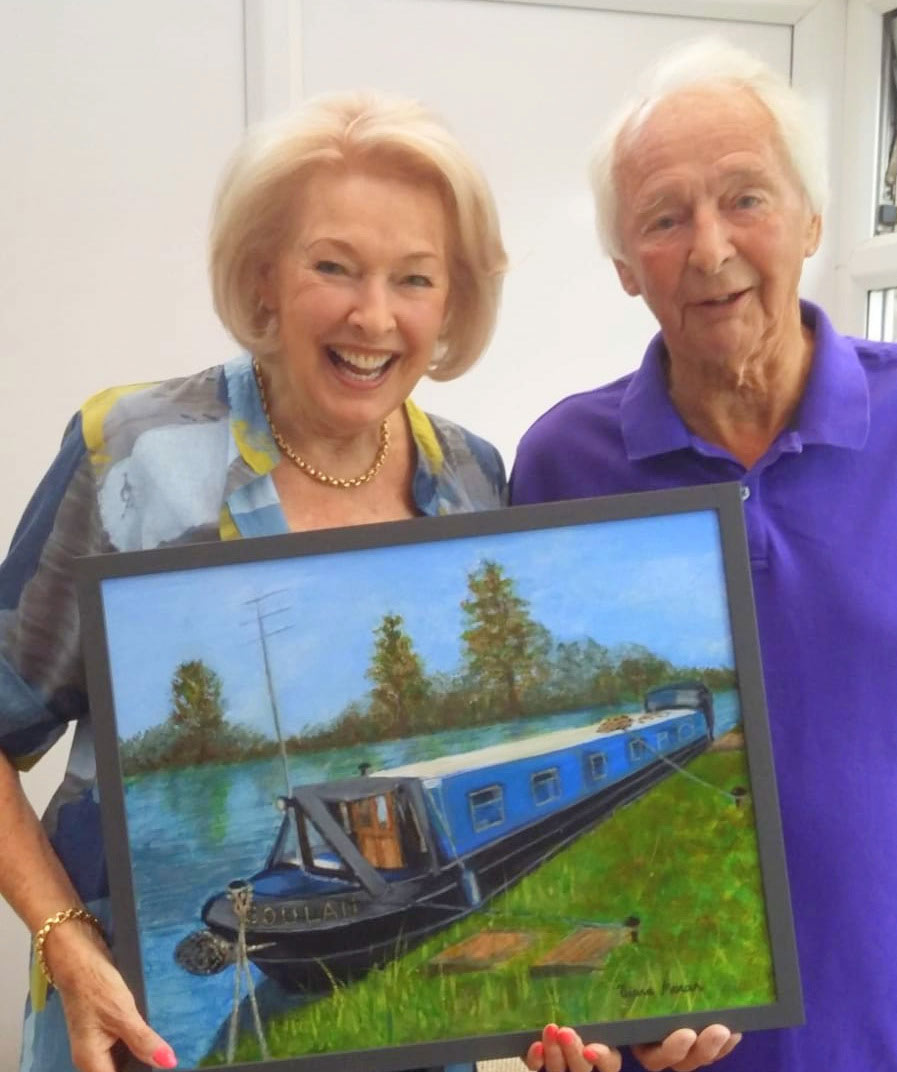 Find out more or book a viewing
Complete the form to receive further information or to book an
exclusive viewing of one of our Show Apartments.