Making travel plans in 2023?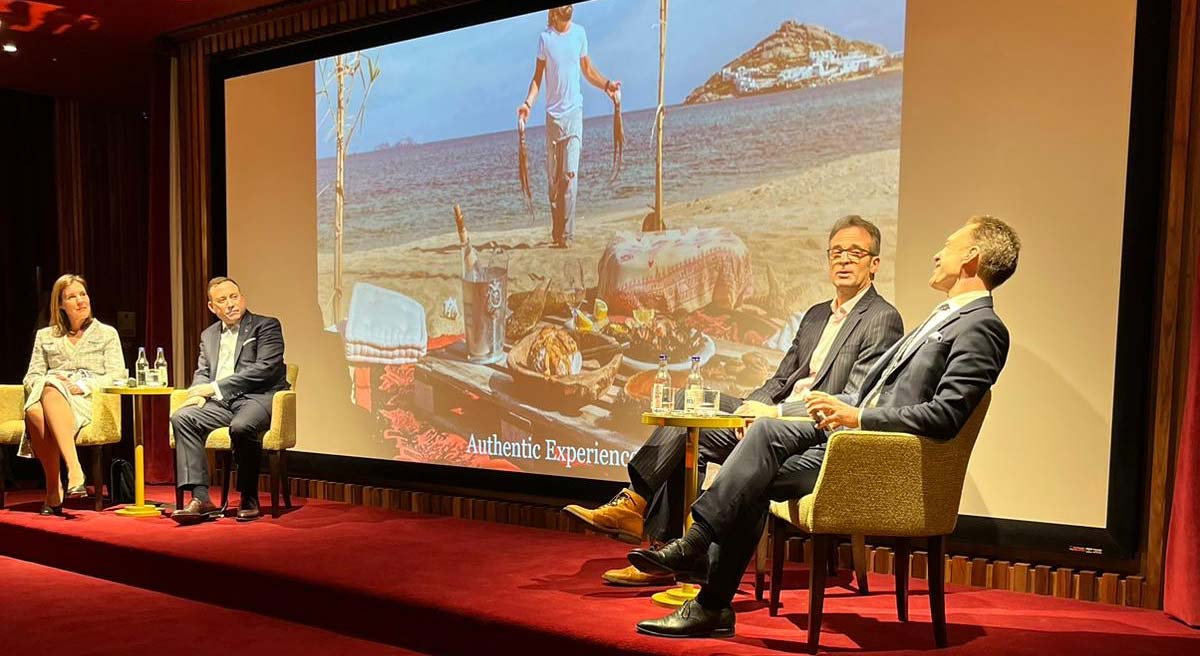 23 February
Last week, Riverstone played host to the 'The Future of Luxury Travel' with Michael Halsall, founder of Halsall Travel International and Riverstone's independent travel designer, to discuss the hottest destinations, long haul trips and city break escapes in 2023.
The exclusive events, open to residents and guests, were held at Riverstone Kensington, with guest speakers from the Four Seasons and Belmont, and at Riverstone Fulham, with guest speakers Rosewood and The Lanesborough.
Michael's role at Riverstone is to design bespoke travel packages for residents. We spoke to him after the panel discussion to get the low down on the most popular destinations for 2023, the rise in solo travel and why immersive experiences are on everyone's list.
What trends have you noticed in luxury travel over the past 12 months?
"Clients are seeking authentic local immersion and experiences are the key. There has certainly been an ever-growing trend towards these, whether that's private cooking classes, dinner with a winemaker or an exclusive viewing of an art gallery after hours. Whilst the hotels chosen are very important, it is these types of activities and private tours that are becoming sought after. Examples of new experiences are immersion into indigenous cultures and philanthropic projects that hotels and communities offer their guests."
Which are the most popular destinations this year?
"Long-haul is certainly making a huge come back with California, the Caribbean and the Middle East popular. There is renewed interest for South America and Asia. In Italy, Sicily has been extremely popular, as well as Puglia. Greece has really upped its game with new luxury resorts and with the cultural historical back drop it's a great multi-generational short haul destination. While Scandinavian city breaks are also very popular, especially Copenhagen after the gastronomic effect of Noma."
What is suitable for individual travellers?
"Solo travel has become popular across all age groups and there are some wonderful tours we work with across the globe that cater for individual travellers; whether they be cultural, gastronomic or 'soft' adventure. Wellness holidays are also becoming increasingly popular, and new retreats such as RAKxa in Thailand offer immunity programs, and The Ranch in Malibu has just opened a sister retreat at Palazzo Fiuggi just outside of Rome."
As the in-house travel expert, what can you offer Riverstone residents?
"I make sure I'm at the residences regularly and residents can book individual times to discuss where they'd like to travel. I offer recommendations, itineraries, flight bookings, hotel bookings, transfers and logistics. I can see over time as the community grows there will be the opportunity to organise small groups of residents travelling together, whether for cultural tours and perhaps food and wine. Our regular travel talks and coffee mornings are a wonderful opportunity to meet residents - so come and chat to me about your travel plans."
Love to travel? Just lock up and leave the rest to us
Riverstone residents love to travel and are always keen to plan their next big adventure. Many choose Riverstone for the independence it provides and being able to 'lock up and leave' whenever it suits them. Residents can travel with peace of mind knowing our 24/7 concierge will keep an eye on their apartments and that plants will be watered, post sorted and deliveries accepted when they are out of town.
Older travellers have the capacity and time to travel more frequently, take extended trips, and the budget to do it in style. In fact, The Times has reported on the growing trend of the luxury midlife gap year - so what's stopping you?

Find out more or book a viewing
Complete the form to receive further information or to book an
exclusive viewing of one of our Show Apartments.