An Afternoon with Sue Barker CBE at Riverstone Fulham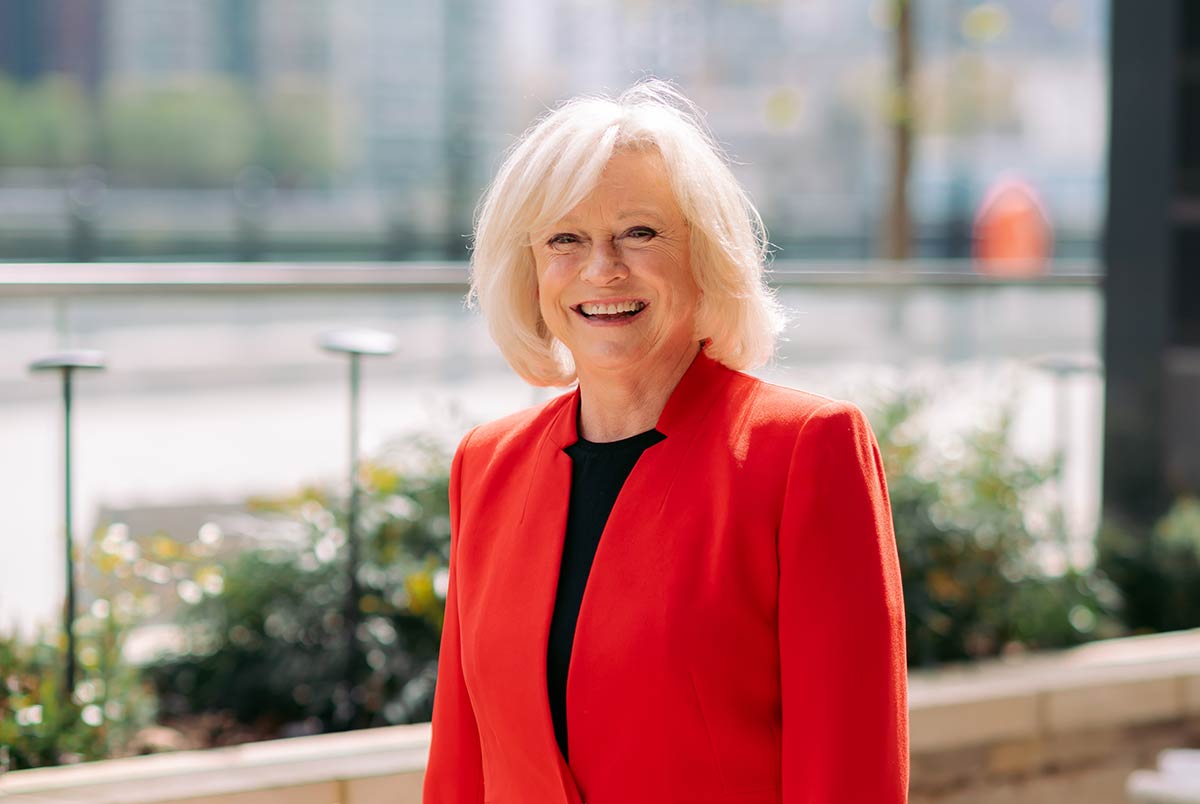 2 May
With spring in the air, and an exciting summer of sport ahead, Riverstone welcomed existing and prospective residents to Fulham for an afternoon with one of the nation's best-loved broadcasters, former Wimbledon presenter and professional tennis player, Sue Barker CBE.
During her playing career, Barker won 15 WTA Tour singles titles, including a major singles title at the 1976 French Open. She reached a career-high singles ranking of world No. 3 before retiring from the sport in 1984 and becoming a broadcaster. She joined the BBC in 1993 and was best known for her presenting for Wimbledon and a Question of Sport, until her retirement last year.
Introduced by Riverstone CEO, Martin Earp, Sue shared wonderful anecdotes about her exceptional Grand Slam winning career including how she got into tennis, her much-loved first coach Arthur Roberts, a move to the US aged 16 and key players that inspired her including Billie Jean King.
Sue entertained guests with experiences during her 30-year broadcasting career up to her retirement in 2022, commenting: 'Of course, having left the BBC last year, I'm ready for the third phase of my life, whatever exciting phase that is going to be. I will prioritise a lot of things – friends and health, which is massively important to me and getting older I appreciate more.
Having just seen the wonderful facilities [at Riverstone], I would go from the pool to the gym, to the cinema, to the bar and restaurant. That would be my dream day! So, I'm incredibly envious of all of you that live here."
Guests were also treated to a live performance from the English National Opera's Barber Shop Quartet, who serenaded the room with classics including a special adaptation of The Beatles When I'm Sixty-Four (tweaked to When I'm Sixty-Five, as Riverstone residents are 65+!). British-themed refreshments and light bites were served by our restaurant, Maria G's, alongside summery cocktails including Pimm's and a non alcoholic version of Pimm's.
Sue epitomises the attitudinal shift in those ages 65+ when it comes to retirement. She is as active as ever – she mentioned a workout routine comprising a PT, cycling around the Cotswolds and twice daily walks with her dogs – and is excited to see where this next phase of her life leads her.
Sue commented "I can't wait to see where my life is going to go from now on. Age is but a number. I want to go out and do all sorts of things - I want to travel, I want to keep living life to the absolute full. And I know I'm with likeminded people here at Riverstone."
Guests were welcome to take a tour of the Fulham residence including the spa, pool, library, the private cinema, and the club room, as well as having a look around our luxury apartments. Understanding that, through the right adaptations, and with our professional and friendly service, residents can live a stress-free life and maintain their independence, while living in a vibrant community.
Believing in the power of community is central to Riverstone's DNA and is hugely beneficial when it comes to maintaining your mental and physical health, as well as giving a renewed sense of purpose. We offer a proactive approach to health and wellbeing to ensure that residents stay independent and active for longer.
With Fulham on your doorstep, the choices for local activities and culture are endless; from walking along the Thames towpath, to visiting Battersea Power Station, watching the tennis at Queens Club, or enjoying a meal at one of the many restaurants the area has to offer.
We welcome you to visit Riverstone Fulham and experience it all for yourself. Call 020 7349 1911 or complete the form below to arrange a viewing.

Find out more or book a viewing
Complete the form to receive further information or to book an
exclusive viewing of one of our Show Apartments.