Moving Made Easier event with a panel of industry experts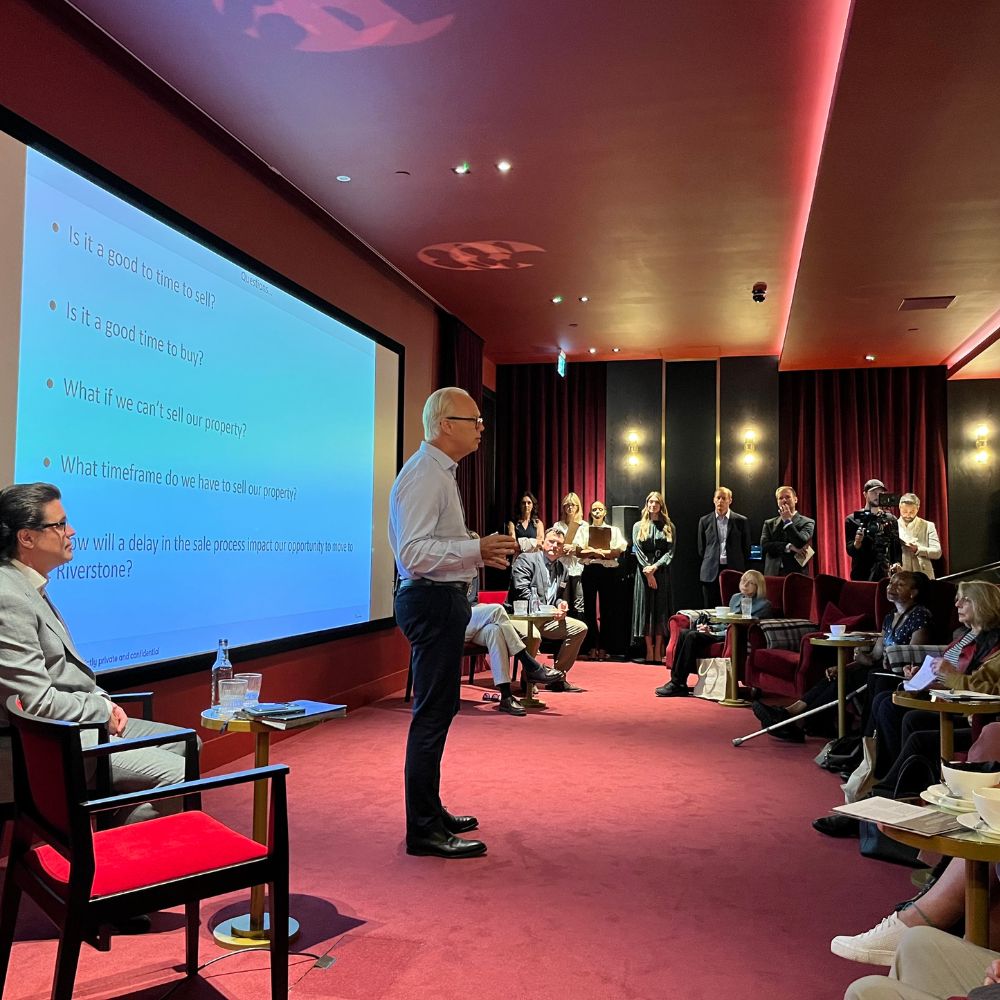 4 August
We often hear from residents that they wish they had made the move to Riverstone sooner. To help prospective residents and their families make that decision, we opened the doors to the Private Cinema in Riverstone Kensington for an intimate event with Paul Pheysey, Riverstone Co-Founder, and a panel of industry experts from Knight Frank, Russell Simpson, and The Senior Move Partnership.
After an introduction to the Riverstone vision from our very own Paul Pheysey, David Forsdyke, Head of Later Life Finance at Knight Frank Finance, gave guests an overview of the Seniors Housing Price index, the strong growth shown in the value of properties over the past 16 years, and the resilience of the London property market.
Jake Russell, Director and Head of Sales at family run estate agency, Russell Simpson, discussed the importance of presentation and 'staging' a property to make it more appealing to buyers.
General Manager, Neil Bishop, from Riverstone partner and downsizing specialist, The Senior Move Partnership, was there to talk about their unique service supporting residents in rightsizing from their family home, into one better suited to their present and future needs.
Neil explained how the process begins with a consultation and planning meeting, honing in on areas of most concern, such as switching utilities or redirecting post.
They assist in sorting and selling items through auctions, charities, and recycling. The Senior Move Partnership handles legal matters, removal quotes, packing, and oversees the move process. They also aid in unpacking and organizing at Riverstone, returning after the move to ensure everything finds its place.
In addition to providing insight and useful advice, the experts answered audience members' question. Afterwards, guests enjoyed a delicious brunch at Maria G's and said they found the event very informative.
Expert Tips:
Reserving your Riverstone apartment early means you have first choice, along with many other advantages.
Riverstone can help sell your home, by finding an estate agent and suggesting a solicitor.
Bridging finance can reduce the stress or pressure of moving, so that you can move into your apartment before selling the family home.
The Senior Move Partnership offer full support, advice, and guidance on sorting your possessions and will manage the entire moving process.
Those who 'staged' their property and focused on decluttering found the process cathartic and achieved a higher price for their home.
The Riverstone Move-In Team will make the move as easy and stress-free as possible, helping to unpack and providing a demonstration of all the new appliances in the apartment, plus how to use the simple MyRiverstone app.

Find out more or book a viewing
Complete the form to receive further information or to book an
exclusive viewing of one of our Show Apartments.