Harmonizing Artistry: A Journey with the Royal Philharmonic Orchestra
30 May
We are delighted to be partnering with the Royal Philharmonic Orchestra (RPO). In this interview, Huw Davies, the Deputy Managing Director, talks about the past, present and future highlights.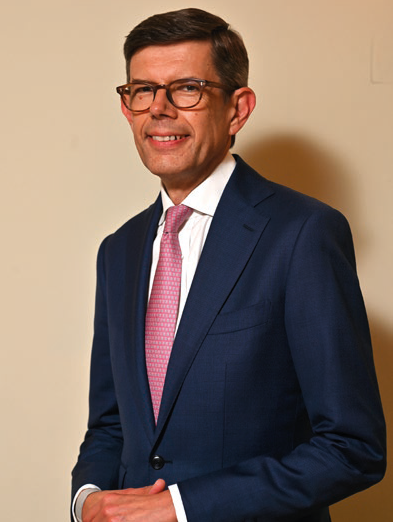 "Last year there was a series of concerts titled 'Journeys of Discovery'. Since then, through their performances, the RPO and Music Director Vasily Petrenko have been pondering questions that humans have contemplated for centuries and composers have attempted to answer through music. Prokofiev invited us to feel the ecstasy of the first flush of love; Mahler transported us to a space beyond this world; Berlioz immersed us in a psychedelic dreamscape and Grieg guided us through our planet's breathtaking landscapes.
Meanwhile, our series of concerts at the Royal Albert Hall comprised quite different fare, including Music of Bond, Film Music Gala and Video Games in Concert. Just part of a typical year that sees the Orchestra perform approximately 200 concerts in the UK and internationally and attracts a live and online audience of more than 60 million people.
Of course, performing concerts is what most people expect us to do, but this year we are celebrating the 30th Anniversary of our award-winning community and education programme RPO Resound (rpo.co.uk/rpo-resound), which has grown to become the most innovative and respected programme of its kind.
Whether we're working in primary schools, prisons, healthcare settings, or bringing people into our concert venues for the very first time, we believe music is for everyone and is integral to happy, healthy and connected communities.
So, what does the 2023/24 Season hold for the Royal Philharmonic Orchestra? There will be tours to Italy, Abu Dhabi, the USA (twice) and Germany and visits to Nottingham, Northampton, Hull, Sunderland, Reading, Slough and Bristol. Closer to home we will continue our journey of discovery with an exciting new series of concerts conducted by Vasily Petrenko titled 'Icons Rediscovered'.
When we say that an artist has become an icon, we mean it as a compliment. An icon is an image, and unchanging ideal – perfection, in other words, to be imitated and admired. But what happens when an icon becomes so familiar that we start to take them for granted? Then it's time to look – and listen – afresh and Vasily and the Orchestra will be setting out to do just that.
At Cadogan Hall we will celebrate our 20th Season as Resident Orchestra, continuing our mission to provide a platform for the world's brightest up and-coming stars, such as our 2023/24 Artist-in-Residence, the outstanding young cellist Zlatomir Fung. Just up the road at the Royal Albert Hall, we will present some of our perennial favourites including Best of Broadway, Music of Star Wars, John Rutter's Christmas
Celebration and The Beauty of Ballet. So there's something for everyone.
I'm often asked which concerts I'm most looking forward to and it's always so hard to choose, but if I had to pick just three from the 2023/24 Season I would say John Rutter's Requiem at St Paul's Cathedral on 15 November (such a special venue); Rachmaninov's Second Symphony at the Royal Festival Hall on 8 February (I must be an old romantic at heart!); and Zlatomir Fung playing Saint-Saens Cello Concerto No.1 at Cadogan Hall on 16 May.
I could go on, but I'm out of space!
A veritable feast of goodies awaits, so please join us next season; you can be sure of a warm welcome."

Find out more or book a viewing
Complete the form to receive further information or to book an
exclusive viewing of one of our Show Apartments.