Riverstone Kensington opens Information Suite
CGI - Indicative of Riverstone Kensington Restaurant
03 December 2020
The Information Suite at Riverstone Kensington is now open for prospective residents to visit and experience the exceptional setting being created in one of London's most sought-after neighbourhoods.
Riverstone Kensington will be nestled amongst the area's exquisite period properties, beautiful parks and world-class museums. With Kensington High Street and Kensington Church Street just a stone's throw away, residents will have a wealth of shopping choices and cultural highlights on their doorstep, including an array of restaurants for every taste and the spectacular Royal Albert Hall.
To provide visitors with an insight into the attention to detail being adopted in the design of Riverstone Kensington, the Information Suite incorporates nuanced and adaptive lighting, scents, sounds and finishes to emulate the full lifestyle experience. Lighting is largely subdued, with functional illumination to reflect the warmth and elegance of the location. Zoning has been employed to provide scents by Urban Apothecary ranging from fig, bay berry and green lavender through to mandarin rind, smoked leather and roasted coffee.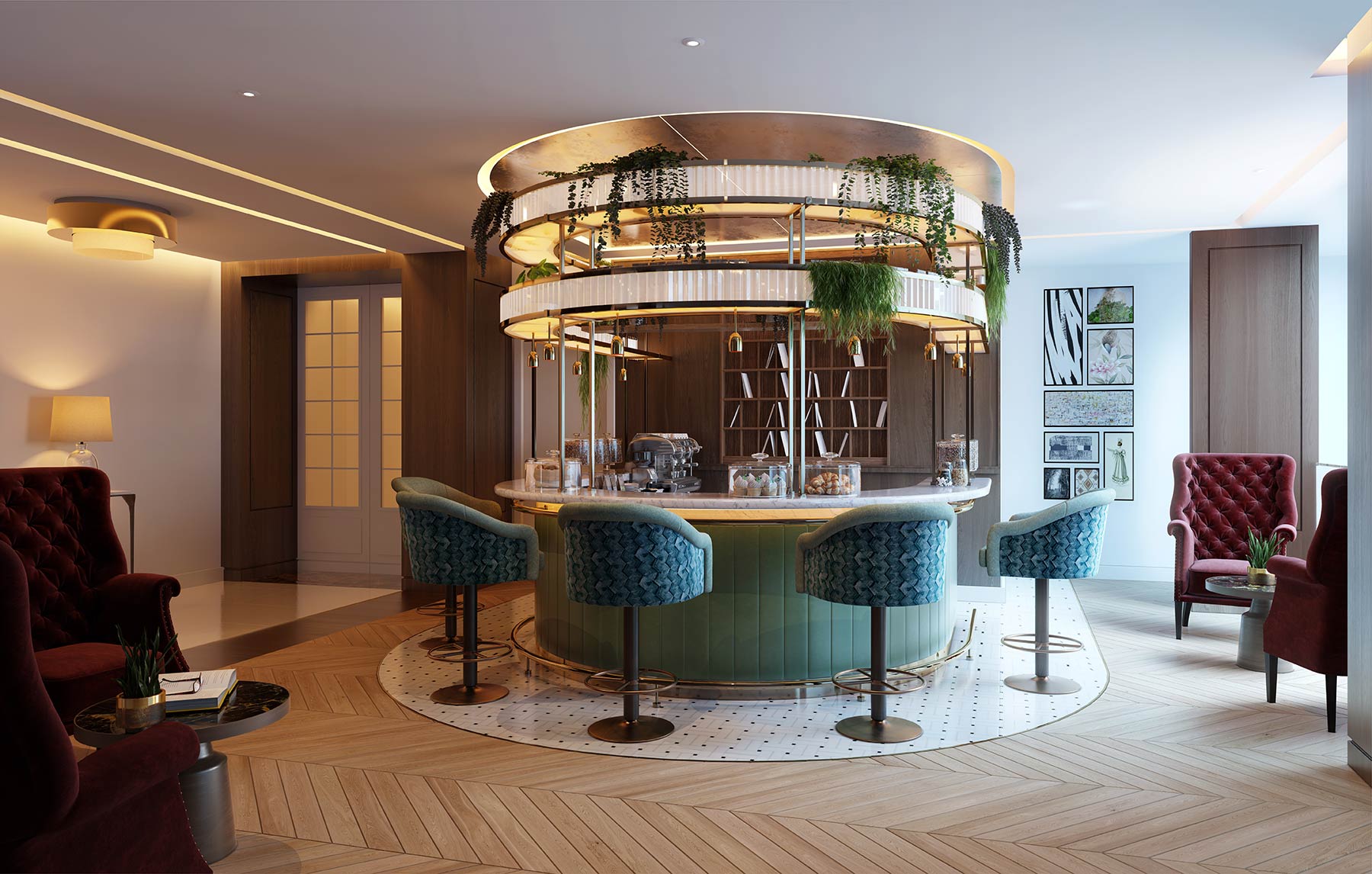 CGI - Indicative of Riverstone Kensington Espresso Bar
The same level of care has been devoted to textures and finishes, with touches of glass, ceramic, stoneware, leather, cashmere and wood incorporated into the space. To enhance the experience, the soundtrack is a similarly eclectic mix by producer Kevin Porée, with elements of smooth jazz, classical, big band bebop, acoustic electronica, soul, folk and 60s pop. It's the perfect backdrop to sample a cup of speciality coffee from Riverstone partner, Origin Coffee.
The Information Suite provides an opportunity to showcase many of the benefits of living at Riverstone Kensington, with features such as a 24-hour Concierge, bespoke care and well-being, safety and security features.
Our belief is that every day should be full of possibilities and we are taking care to ensure that our hospitality services and amenities, such as the Restaurant, Bar, Library, Club Room, Private Cinema, Swimming Pool and Fitness Studio, are second to none and will provide plenty of opportunities to relax and revitalise.
Rest assured, the safety of our visitors and our future residents is of the utmost importance to Riverstone and stringent measures regarding COVID-19 are in place in accordance with Government guidelines. Please click this link to view the full list.
We look forward to sharing further details with our first guests to visit us at the Information Suite at Riverstone Kensington. To book an appointment or to arrange a virtual meeting, please contact a Riverstone Client Advisor on 020 8189 7244.

Find out more or book a viewing
Complete the form to receive further information or to book an
exclusive viewing of one of our Show Apartments.