Exploring Art's Provocative Power at Riverstone: A Saatchi Art Talk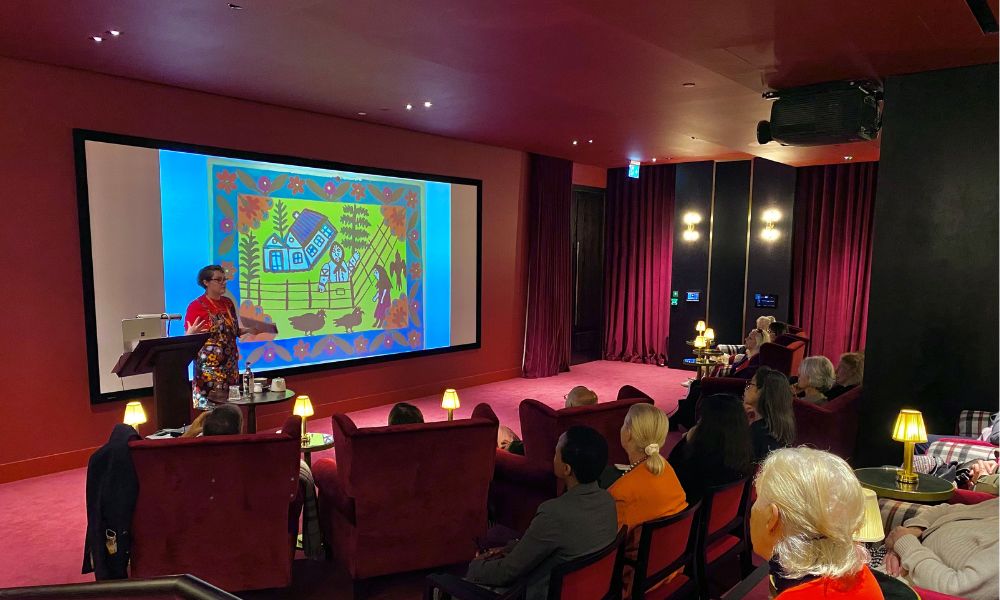 21 September
In collaboration with our renowned partner, Saatchi Gallery, Riverstone recently held an event that encapsulated the influence of art on society and culture. Florence Goodhand-Tait, Head of Learning at Saatchi Gallery, led a captivating talk, unravelling the complexities and nuances of contemporary art exhibitions to residents and guests in our private cinema at Riverstone Fulham.
Florence commenced by delving into the exhibition "Civilisation, the way we live now," a striking collection featuring 150 contemporary photographers chronicling humanity's intricate tapestry across the globe. Guests were shown the work from three artists, Dona Schwatz, Francesco Zizola and Alejandro Cartagena.
The talk also paid tribute to the awe-inspiring works of Ukrainian folk artist Maria Prymachenko, whose art was shown for the first time in the UK after having been preserved by the artist's family for more than fifty years. Prymachenko's evocative paintings, steeped in the natural beauty of Polissya, unveiled a profound inner light that persevered amidst adversity.
Lastly, "Beyond the Streets" unveiled an explosion of graffiti and street art, a testament to the raw expressionism that adorns cityscapes worldwide. With over 100 international artists, the exhibition sprawled across the iconic Saatchi Gallery, supported by Adidas Originals.
The thought-provoking talk was then followed by drinks, canapes, and interesting conversation, hosted by Maria G's.
Riverstone sees art not just as a visual spectacle but as a catalyst for contemplation and reflection. Through events like these, we aim to create an environment where residents and guests engage deeply with the world around them.
We're proud to facilitate these moments of revelation, where the power of art resonates within our community, stirring conversations that transcend time and place.

Find out more or book a viewing
Complete the form to receive further information or to book an
exclusive viewing of one of our Show Apartments.