Official Riverstone Kensington Launch Garden Party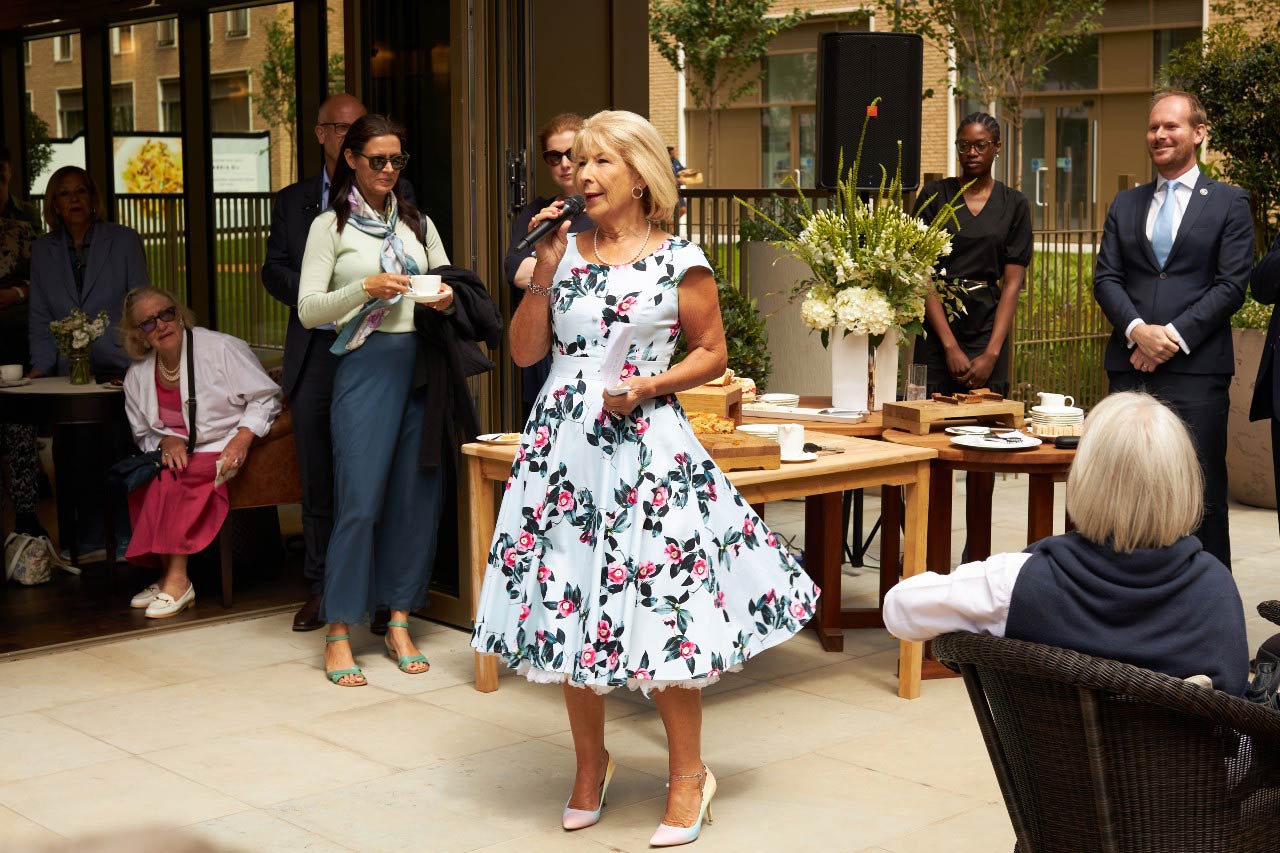 01 July 2022
Following the hugely successful launch of Riverstone Kensington Grand Opening with Dame Joanna Lumley, we invited local residents to join us in the Riverstone Kensington gardens designed by Andy Sturgeon. It was also a great opportunity to continue with the Platinum Jubilee celebrations of Her Majesty The Queen. Joining us as a special guest, BBC Royal Correspondent Jennie Bond spoke with guests and delivered a speech, highlighting her time with the Royal Family and sharing some rather hilarious anecdotes from her career.
Having toured Riverstone Kensington, Jennie highlighted the following in her wonderful speech 'As you grow older, I think we all in the back of our minds, have that idea, I don't want to be a burden to my children. Please don't let that happen. And so, you take the decision to move somewhere like this. You've done it. You've solved the problem before it happened, which is the very best thing. So congratulations to absolutely everyone who's done this. Carry on taking risks. And if you haven't, start taking risks, frighten yourself'.
Julian Mercer, one of the three founders alongside Paul Vesty and Paul Pheysey, offered thanks to all those in attendance, followed by his gratitude towards those who have helped Riverstone become what it is today and showed great excitement for the days that follow.
In between enjoying the gardens with a glass of the Riverstone signature cocktail, The Amalfi Spritz, guests were taken on tours throughout the residence, visiting the beautiful light-filled apartments and the various amenities on offer, such as the cinema, fitness studio and the well-being centre.
Guests were given herbs from award winning horticultural expert Jekka McVicar VMH, who planted the sustainable herb garden at Riverstone Kensington, as well as olive oil provided by Robin Gill's on-site neighbourhood Italian restaurant and bar, Maria G's, which is open to the public.
How great it was to see the local community, residents who will be moving in later this year and those who are considering a move to Riverstone Kensington, enjoying the Riverstone experience. We are looking forward to welcoming everyone back for lunch at Maria G's which can be booked here.
If you would like to arrange a private tour of the residence and show apartments, please contact us by calling 020 8189 7244.

Find out more or book a viewing
Complete the form to receive further information or to book an
exclusive viewing of one of our Show Apartments.