5 minute Coffee Break with Artist, Lilly Mai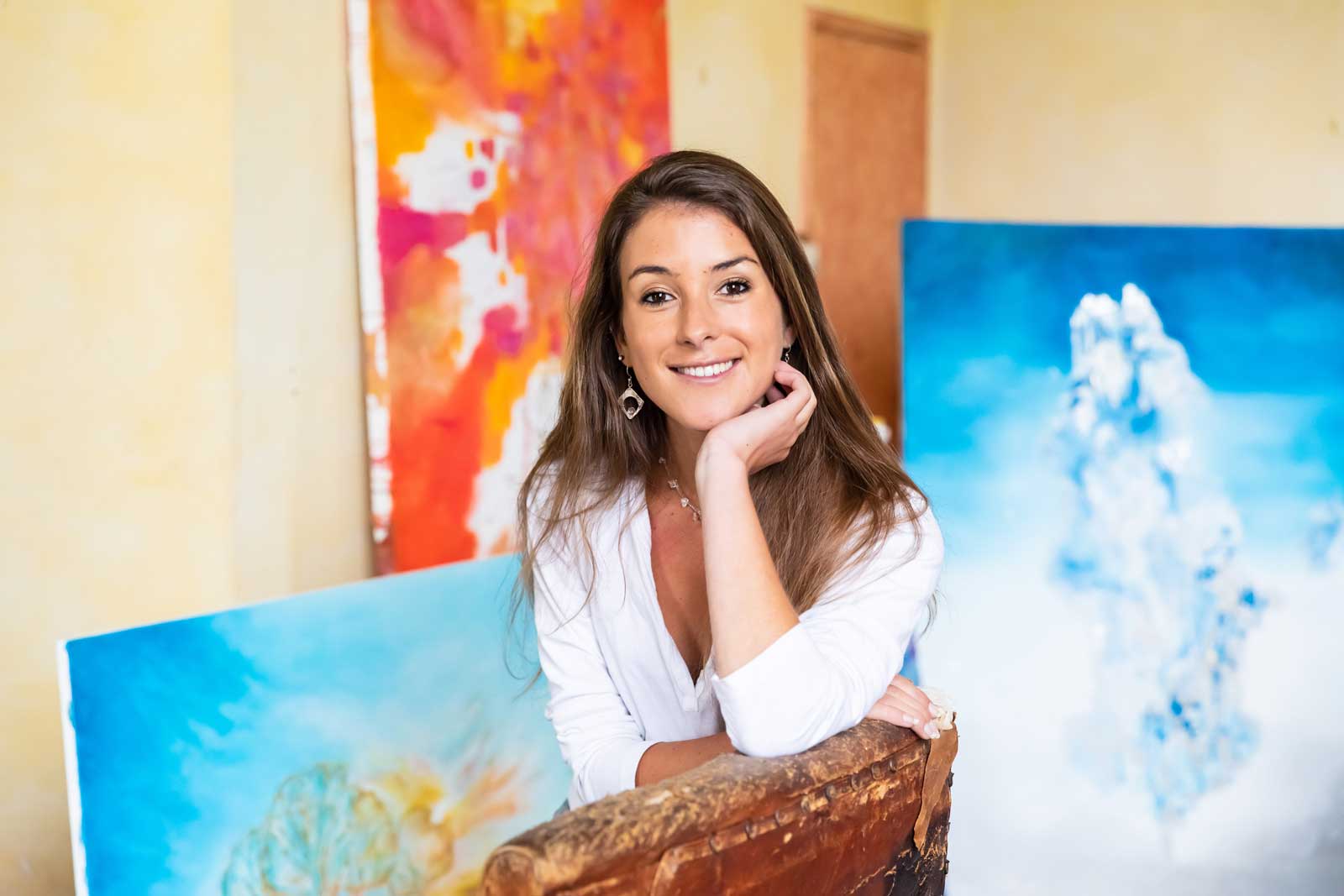 07 October 2022
As the first Q&A in our Coffee Break Series, we sit down with Artist Lilly Mai as we discuss her creativity, her ideal afternoon in London and her great relationship with Riverstone that has led to her proudly becoming our resident artist.
Lilly Mai initially studied film and photography in Brighton before moving to art therapy as a post graduate course at Roehampton University, a calling that she wanted to explore since her childhood. Her designs are organic and abstract, her passion and feelings are displayed through the myriad of colours that she brings to the canvas.
We invite you to join us as we reset with a coffee break in the Riverstone Kensington Library…
Can you begin by telling us how you started your working relationship with Riverstone?
I met Co-Founder Julian Mercer whilst working on another commission in Covent Garden. Once learning about the inspiring journey of Riverstone, we discussed the Kensington and Fulham residencies and collaboratively worked together to design a mood board for both sites – an opportunity that I am very grateful for.
When creating pieces for Riverstone, what is your thought process behind them?
I wanted to create pieces that were colourful and vibrant. I know from being exposed to certain colours in my studio that it can have many health benefits, including increasing energy levels or promoting relaxation. This perhaps mirrors Riverstone's aim of prioritising the resident's sense of enjoyment, health and well-being. I aimed to celebrate Kensington's location, which is rich in arts by fusing spirited patterns and luxurious colours as a backdrop to Kensington's iconic buildings. Whereas, with Fulham, I designed it in a way where the abstract background would have a sculptural element to it and the paint would give the impression of the River Thames.
I also enjoy being in nature as it helps to ground and calm me. The more I paint, the more I recognize what the act of painting represents for me.


An exhibit of Lilly's previous work
Its wonderful to hear about the inspiration behind the art we have on display. What is your favourite gallery in London?
I love to wonder around The Wallace Collection, the atmosphere is beautiful and calming and I like the sense of escapism that it encapsulates in its interior. It also holds one of my favourite paintings, 'The Swing' by Fragonard.
What is your idea of a perfect day in London?
There are so many wonderful things to see in London. I really enjoy walking around Kensington, especially Holland Park. I like to grab a coffee from a café on Kensington High Street as I take a walk in the park and enjoy the nature. A perfect end to the day would be viewing a show held at the Royal Albert Hall.
That sounds like a wonderful day. Thank you Lilly Mai, it was great to spend this break with you
Thank you, I have been so appreciative of the way Riverstone have not only wanted to commission me, but at how interested they are in my creative process and my role as an Art Therapist. It is wonderful to feel so involved with the team and I am honoured to be part of Riverstone's journey.

If you would like to see Lilly's artwork, you can find them at Riverstone Kensington. Alternatively, you can discover more on Lilly's website: lillymaidesigns.co.uk
If you would like to visit our Kensington residence, please call 020 8189 7244. Alternatively, to visit our Fulham residence, please call 020 7349 1911.

Find out more or book a viewing
Complete the form to receive further information or to book an
exclusive viewing of one of our Show Apartments.